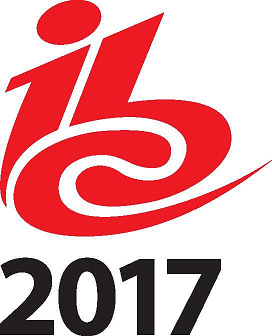 As usual in September, Zetacast was in Amsterdam for IBC, the International Broadcasting Convention. 2017 marked the 50th anniversary of the event and saw the highest ever level of attendance, with a total of 57,699 people visiting the exhibition and conference.
Ultra high definition displays were everywhere in the exhibition, with the various methods of providing High Dynamic Range (HDR) as the most hotly debated new technology. There were also several interesting demonstrations of virtual reality – a new technology that has great potential for the future, but which still has many commercial and technical issues to resolve. Is it the next big thing or the next "3D" disappointment? Only time will tell.
There were the usual high quality presentations at the conference, with increasing emphasis on the importance of artificial intelligence and conversational user interfaces. One highlight was the keynote presentation by Dr David Hanson, founder and CEO of Hanson Robotics, covering the technology and ethics behind the development of humanoid robots. This included a question and answer session with Sophia, a human-like robot that was able to respond to questions both verbally and with complex facial expressions.